Oranges Sanguines 15Kg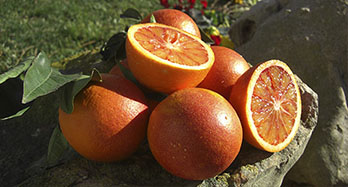 Pour le moment nous sommes désolés de vous informer que nous ne disposons pas de ce produit en stock.
Le sang orange (Sanguinelli), nommé pour sa couleur rouge foncé, dans le groupe de Sangre, bien qu'il soit une variété d'oranges qui à l'heure actuelle a peu de production, est devenu la variété la plus cultivée en Espagne.

Its fruits contain both the bark and the pulp a red pigment that characterizes them. C'est une orange qui attire toujours l'attention des enfants.

Nous pouvons l'utiliser pour manger ou boire en jus, mais une de ses principales propriétés est qu'il est très approprié pour faire des confitures, avec un résultat fantastique, que peu de gens savent, puisqu'il n'est pas très fréquent d'utiliser des oranges sanginelli, à cette fin .
Warning
: include(../conexion/conexion.php): failed to open stream: No such file or directory in
/var/www/naranjasalbagarces/frances/code/ratings/ratings.php
on line
2
Warning
: include(): Failed opening '../conexion/conexion.php' for inclusion (include_path='.:/usr/share/php') in
/var/www/naranjasalbagarces/frances/code/ratings/ratings.php
on line
2
Warning
: mysql_num_rows() expects parameter 1 to be resource, boolean given in
/var/www/naranjasalbagarces/frances/code/ratings/ratings.php
on line
8
Warning
: include(../conexion/cerrar_conexion.php): failed to open stream: No such file or directory in
/var/www/naranjasalbagarces/frances/code/ratings/ratings.php
on line
24
Warning
: include(): Failed opening '../conexion/cerrar_conexion.php' for inclusion (include_path='.:/usr/share/php') in
/var/www/naranjasalbagarces/frances/code/ratings/ratings.php
on line
24
Donnez votre avis
Warning
: include(../conexion/conexion.php): failed to open stream: No such file or directory in
/var/www/naranjasalbagarces/frances/code/comment/commentbox.php
on line
2
Warning
: include(): Failed opening '../conexion/conexion.php' for inclusion (include_path='.:/usr/share/php') in
/var/www/naranjasalbagarces/frances/code/comment/commentbox.php
on line
2
Fatal error
: Class 'NumberFormatter' not found in
/var/www/naranjasalbagarces/frances/code/comment/commentbox.php
on line
7